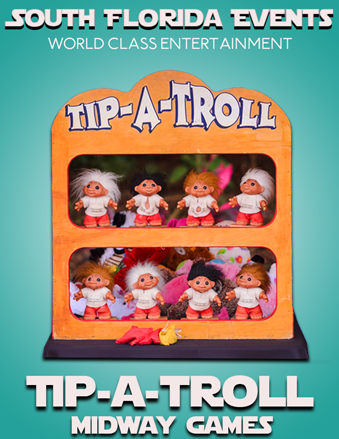 Tip A Troll
Actual Size: 14″L x 24″W x 24″H




Growing up, trolls were always something to be frowned upon. They were hideous, had wild hair, and most had bad manners! They were depicted to tease humans, and hinder all they tried to accomplish with their mannerisms. There was even a book about trolls not letting people cross over a bridge to get to their destinations. How rude! These ugly, crude beings definitely need to be put in their place, and we do just that with our Tip a Troll game!
As you wait for your turn, you will be looking at the trolls. Their wild hair will be waving in the wind and you will be picturing them sticking their tongues out and making rude gestures towards you. This will get you more amped up and ready to tip them! The person in front of you seems to be having a hard time, but you know that you are up for the challenge and won't miss a toss! Show these trolls who is boss by tipping them over, and you will be a victor!
When it is finally up to you to tip the beasts over, you don't hesitate. You pick up your bean bags, and get ready to aim. You look at them, and they look back at you with their googly brown eyes. Will you get them? You toss the first bean bag, and you miss! Their awful appearance distracted you and you aimed too high. That's okay though, you still have a few more chances…
You take the next bean bag and concentrate on your target. Without hesitation, you release the bag. You did it! One of the trolls gets knocked over into the back of the game board. Now that you know it is possible, you hit all of the other targets in no time at all. Guests behind you watch in amazement as you make it look so easy. Perhaps it is, or maybe your hatred for trolls is fueling you!
Your turn may be over, but watching those in line behind you try their luck proves to be just as entertaining. Claps are heard when they hit a target, and even some background booing can be heard when they miss. Whether you are playing the game, or watching other guests test their skills, Tip a Troll is entertaining for all. It brings you back in time to when trolls were more popular in books and on the big screen!