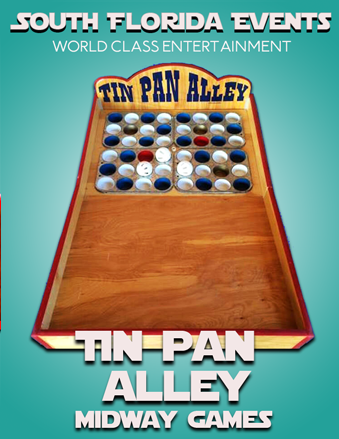 Tin Pan Alley
Actual Size: 56″L x 35″W x 4″D




Carnival games are always a big hit, and Tin Pan Alley is a ton of fun for all ages. Reminiscent of classic boardwalk games or old world county fair fun, Tin Pan Alley adds a classic element to a wide array of party or event atmospheres, often being paired with picnic catering or our famous South Florida BBQ catering to provide a special county fair or family park type feel.
Perfect for either gender and good for a wide array of ages from the very young all the way up to teens, Tin Pan Alley tests hand-eye coordination and adds an element of luck as participants take turns tossing whiffle balls down the alley to try and match two blue, white, or red colors to score a point or win the game.
Carnival games for kids are among our top rentals, and provide a great opportunity to provide fun healthy activities that will occupy their attention spans for hours as they play, watch, wander off, and then come running back to play some more.
But what many people forget is that adults love carnival games as well (sometimes even more than the kids) and in fact, we have found that when these games are present, adults will spend just as much, if not more time, tossing whiffle balls down the row with unfeigned enthusiasm.
It's a simple game that provides a ton of enjoyment and is a great accompaniment to a wide array of party themes. Not to mention it is great for company bonding events and less formal corporate gatherings with an eye for providing a variety of entertaining games and fun interactive experiences.
Combining Lucky Dime Pitch with Tin Pan Alley and any (or all) of our other carnival game options is also a great way to provide loads of fun for grouping that will keep the kids and adults alike coming back for more.
But no matter whether you choose to incorporate it as a stand-alone game or combine it with other party elements to create a larger theme, you will be pleasantly satisfied by how much time your guests spend playing, and how much fun they have interacting with each other and the games.