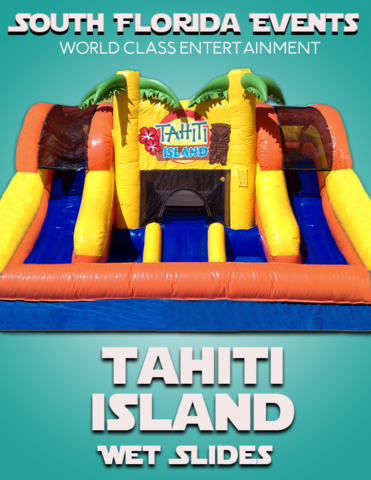 Tahiti Island
Actual Size: 31' L x 9' W x 10' H




On a typical day in the city, you would look around and see all of the hustle and bustle of day to day activities. The alarm goes off, and suddenly it is a "go go go" scenario. With just minutes to get ready, you try your best to make it out the door on time. People will be rushing by, without a moment to even think for themselves. Cars will be honking their horns trying to get to their destination quicker, even those the traffic jam is a mile or more long. Bikes will wiz by you without a word. Large trucks will be loudly making their way to their next stop. Taking a second to let this all seep in will make you want a vacation!
Go someplace where the air is salty and the waters are calm. Let the sun be your clock and let the aromas tell you when it is time to eat. Take time to sit in the grass and look at all of the beauty around you. Speak to those who pass by, and get shocked when they take the time to converse instead of rushing forward with their day. Enjoy every aspect of what nature and other people have to offer you and the world as a whole. People don't take even a second to think of all that the world has to offer; they just think of what it next on their agenda and how they are going to get it done. Their wheels are always turning, but they need to give them rest before they burn out!
Tropical getaways are always fun, but with Tahiti Island you can bring the destination to you! Keep your guests entertained and comfortable at your next sunshine filled outdoor event! This inflatable features two palm trees to get you into the island groove and has multiple slides for your guests to try. They will slip and slide the day away, providing you don't have other plans for them!
Even though you aren't on that fantasy island or dream vacation, it could be fun to incorporate island themes to help your guests let loose and forget about their everyday city stresses. Even if they don't choose to take a turn on Tahiti Island, they will be entertained by those who do! Perhaps a luau would be a good way to end the night? Maybe even a pig roast? Don't forget the Pina Coladas for those over 21!