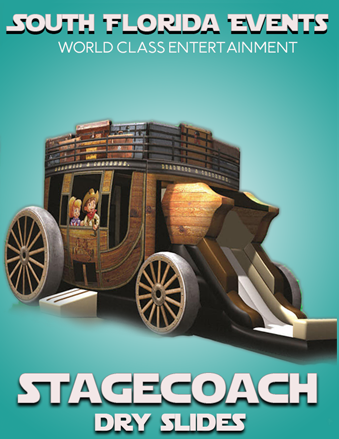 Stage Coach
Actual Size: 31' L x 14' W x 16' H




Stagecoaches are always a hit, and perfect for a birthday party or children's gathering. And this one tops them all!
From the dusty plains of a country western to the slow amble of some traveling Prince or Princess through lush green forests full of hooting robbers, stagecoaches are synonymous with excitement and adventure, luxury and fun.
Perfect for both a boy's or girl's party, and able to shift any birthday party or other gathering from a slow and steady crawl to the high speeds of an out of control wild ride, this Stagecoach will provide oodles of opportunity for the imagination, and inspire wonderful feelings and powerful creativity as children pick their own adventure and call it out in thrilling detail.
Much more than a bounce house, the Stagecoach not only has an inside area designed to allow kids to jump around as if the coach was barreling full speed down a dirt road, but it combines all the custom features of a super fun crawl through area with child-proof finger-safe netting, and also has a finishing dry slide to pop out and whoosh your way down to the end.
Kids will go round and round on this combo ride, imagining different landscapes and harrowing escapes as they tumble out and then hop right up and head around to climb in again. And the detailed exterior is exquisite, providing a great conversation piece for the parents or adults… adding an attractive visual element to any large or small gatherings like a BBQ catered South Florida work event, adventure themed birthday party, South Florida park picnic with a zip line, or neighborhood backyard environment.
Kids and adults alike will enjoy the novelty and interactivity of the Stagecoach.
So Hop On and Let the Ride Begin! Call for Rates.