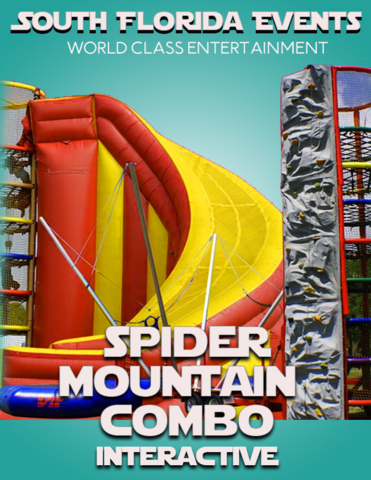 Spider Mountain
Actual Size: 50'L x 50′ x 24'H




All kids dream of having the powers of Spider Man. Climb fast and with stealth to your destination. Be the center of attention and the one everyone looks up to. Have the skill to get things done and accomplish crazy physical endeavors without blinking an eye. Use rope type webbing to get from place to place. Have people watching your every move, wondering what awesome maneuver you will pull off next. Will you be jumping, climbing, or walking on walls when they spot you?
The Spider Mountain combo will get the inner child in all of us revved up and ready to show the world that there is a super hero within us (or at least the desire to be one)! Pretend you are Spider Man and race through the activities offered with this inflatable wonder. Will you be able to get through the three stages and not be short of breath? Spider Man doesn't get tired!
First, there is the three station bungee trampoline. Jump as high as you can. Imagine that you are trying to get to the top of a building in the shortest amount of time. Flip until your stomach can't take it anymore. Make it seem as if you are tumbling aimlessly with no ground in sight. Will you land on your feet? Try your best super hero moves while you are flying through the air. Will you be the one to jump the highest and perform the coolest aerial moves? The observers will have to be the ones to judge.
Next up is rock and rope climb. Show your skills and climb as high as you can. Use the ropes if you need help to get to the uppermost level. It may seem like you are climbing the highest mountain, but super heroes aren't easily frightened. Will you be scared if you look down? How far will you get?
If you are still up for some adventure after all of the other challenges, we have the vertical climbing cage. Climb to your hearts content up multiple levels. One by one, up you go. Be steady and confident. Don't let the heights get the best of you. Once you get all the way up, picture yourself on the highest peak, looking over the city. Would you be able to protect it from evil?
This is surely one for the adventurous guests and will entertain those attending your event. With so many different areas to try, there is hour after hour of fun! Watch or experience, the choice is yours!