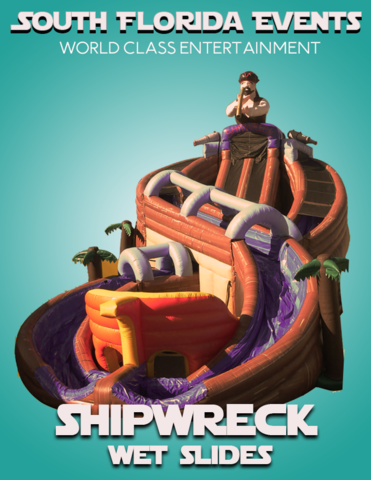 Ship Wreck
Actual Size: 60'L x 35'W x 29'H




You are a seasoned pirate sailing the high seas. Your crew is all around you helping tend to the boat as the waves come crashing down and the wind gets stronger and stronger. There is water as far as the eye can see and no land in sight, but that is the life of a pirate! Climb the ropes and adjust the sails while taking in the scenery around you. Are there other ships in the distance? Be careful while you look! No one wants to fall down to the deck.
Weather is key when you are a pirate. Will it be sunny with minimal ocean spray? Or will the water be rough with strong winds? Simply walking on the deck could prove to be a tough chore in some unfavorable weather conditions and it may get slippery… And even the boat could get shipwrecked!
Twists and turns are a day to day adventure. You never know how high the waves will be, or how strong the winds will get. Be prepared for all the bumps you may encounter, as there is no avoiding them. This is the life that you chose for yourself! Whether climbing is your specialty, or you prefer to watch others take on the challenge, it is entertaining either way.
Children often dream of being pirates, riding the waves on the open sea and only answering to the wind. Maybe they envision finding buried treasure and becoming one of the richest people in the world, or maybe taking on the daily challenges and adventures that pirates seem to encounter is what interests them. With all of the new movies out, there are many who think the pirates' life is for them!
Shipwreck will give them the opportunity to feel like they are living that life! They will climb up the winding inflatable, which isn't an easy task. Then, they will slide down the slide of many twists and turns before reaching the bottom (water levels can be adjusted to suit your individual needs). They can envision riding the waves in the deepest part of the ocean as they begin their trek down. This watery adventure is an awesome and enjoyable form of entertainment for those attending your outdoor event. It is a figure-eight shaped water slide that proves to be monstrous in a fun way! Keep your guests cool and content with all Shipwreck has to offer!