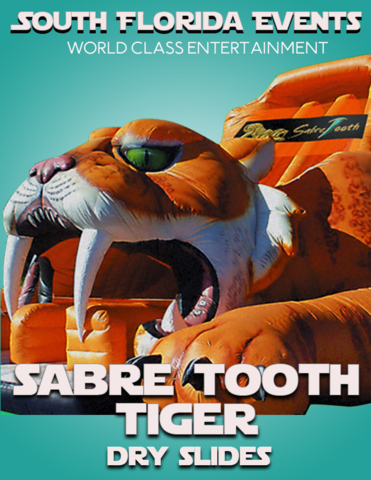 Sabre Tooth Tiger
Actual Size: 50'L x 32'W x 35'H




Children love learning about the dinosaurs that roamed the Earth thousands of years ago, and are enthralled with how big they were and their ferocious looks and roars. There is something special about the extinct species that draws children in, and keeps their attention. But, these aren't the only creatures that roamed the forests and plains back then. Across what is now North and South America, Sabre Tooth Tigers made their homes. They may not have been as big as the dinosaurs, but they were still very ferocious and could even take down a want bigger creature if they tried!
Sabre Tooth Tigers are fun to learn about too, and they look just as mean and scary as the dinosaurs. Their large protruding teeth make them a bit intimidating. Of course, when children are curious they want to get closer. Our Sabre Tooth Tiger bouncer makes that possible! Children can get up close and personal with this beast, as they climb right up onto it and slide back down its tongue!
They will use their imaginations and pretend that they are fighting for their lives, trying to find a way out of the tiger before it clenches its giant jaw, and makes them disappear forever! Maybe they will try to tame it, and it won't even try to eat them! Either way, no matter how the story plays out, they children will surely be entertained and keep coming back for more! The slide down is fun and the trek up is challenging. But the real fun comes from what they think of while they are doing it! This inflatable looks ferocious, but it is a very safe addition to any event. For animal themes parties, outdoor adventures, and family gatherings, the Sabre Tooth Tiger will be a hit!
Add the Sabre Tooth Tiger to your next party and you will not be disappointed. The look on the faces of the children as they slide down will be priceless, and one slide down will not be enough. Keeping the kids entertained is priority, so the adults can have a little fun too! Enjoy watching the children as they keep climbing up for more, and ensure that they are having a roaring good time! They may be extinct now, but that doesn't mean that they have to be forgotten. This beast is ready to go for your next event, and won't have your guest falling short of a good time.