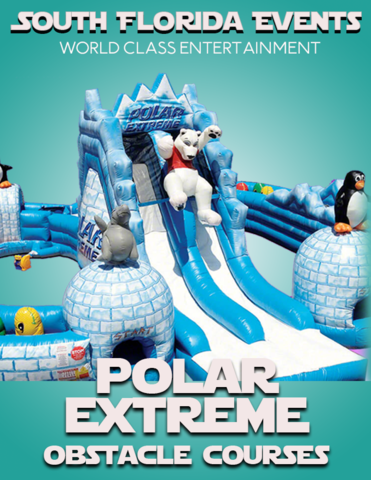 Polar Extreme
Actual Size: 43' L x 45' W x 19' H




Obstacle courses are a great source of entertainment and thrill. For years, people have been making their own courses on their lawns and have even paid to be part of obstacle course challenges of different skill levels.
…They are even better when they are inflatable! Bouncy houses have been popular for a long time, but mixing it with an obstacle course is pure genius. Not only do you have to get through different challenges, but you have to do it when you are bouncing around. Solid ground just doesn't compare! Safety is also considered, as the inflatable walls prevent most injury!
Race through the course while bouncing along and dodge obstacles as you go, looking eagerly in front of you for the finish- hoping to be the one that can complete it in the fastest time. Keep your feet moving as you jump, crawl, and work your way around all that you will encounter along your way. You never know what you will encounter your first time though the course, so it's a great adventure!
It may be warmer than the North Pole outside where you are, but the Polar Extreme is sure to keep those attending your event busy! There are a lot of different challenges throughout the course that make those brave enough to go through exert themselves! Holding steady proves to be a challenge in itself as every footstep springs back up and makes for a wobbly experience. They will have to go through caves, waddle through some penguins, slip by some adorable seals, and dodge some pretty fishy characters before sliding to the finish!
Once they go through once, they will go again and again in an attempt to beat the time of those around them or their own! After the first time through the course, they will know what to expect the next time. This will allow for faster times and multiple challenges among each other. It's a fun filled physical form of entertainment.
Children today don't normally just go running around outside, and prefer to be inside in front of a video game or a computer screen. That won't happen with this in the yard! It is a great way to disguise physical activity with a creative course that will keep the kids outside and entertained for hours as they try to be the fastest!
The Polar Extreme is a great addition to any event!