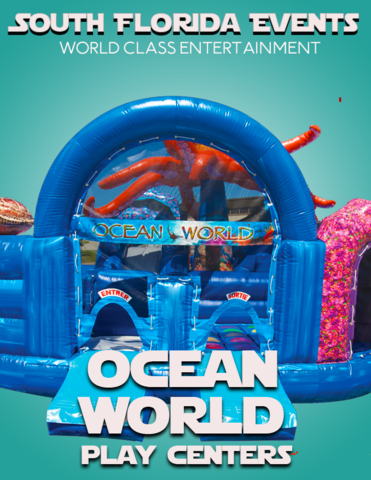 Ocean World
Actual Size: 28' L x 29' W x 18' H




It is always interesting to think about what is happening beneath the ocean waters. Dolphins play, schools of fish rush by, sea horses brush between the sea grass, and other beautiful creatures move around beneath the ocean's surface. It seems awfully calm on a typical day for so much to be going on down below. Of course, in addition to all the beautiful sea life, predators lie beneath as well. Schools of fish are eaten by bigger fish, and sharks swim around looking for their prey. But I guess that is a risk you take in order to see the true beauty of what is below the ocean.
Children love to think about the creatures of the ocean and what they do all day. To them, they just swim around and learn about different types of corals and hide in the tall grass when a predator is lurking about. Ocean World lets their imaginations take over, as they go through all of the obstacles while underwater. Will the octopus get them, or will they get out just in time..?
Ocean World as a real under water adventure that has those taking part running, crawling, sliding, jumping, dodging obstacles, and even playing hopscotch! While in the real ocean it is dangerous, it is only fun and games with this fun inflatable! Some that take part will take on the role of a mermaid as they swim around the ocean, watching all the creatures as they go about their daily activities. They will look for their castle under the sea, and imagine how beautiful it would be.
With Ocean World, the possibilities are endless. No matter how many times a child tries it, it will be a different experience every time! One time they could be a fish, another time they could be a mermaid. It is all truly up to them and their imaginations. While the inflatable theme begins the journey, those who take part create the story.
Adding Ocean World to your next event will steal the show! Take a walk on the ocean floor and see what comes up! Have your guests squeezing and twisting themselves through different obstacles that would be found under the sea, while they envision all of the creatures that dwell below. They will have a great time as they think of new adventures to take part in! Let creativity and imaginations take over with the help of this inflatable!