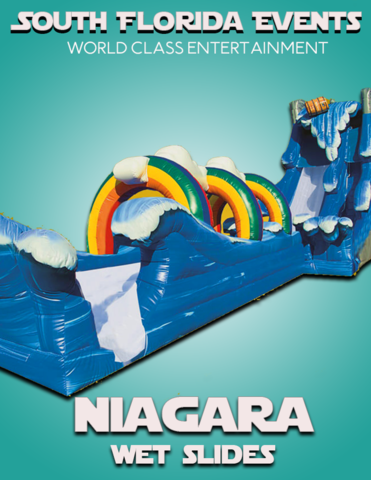 Niagara
Actual Size: 58'L x 13'W x 25'H




You've waited your whole life to get up close, and the day has finally come. You begin to get a bit nervous as you get nearer. The mist is hitting your face as you get close to the waterfall. The closer you get the more striking and beautiful it appears. The water flows incredibly fast, and looks extremely smooth. Then, it drops without hesitation into the choppy waters below. Niagara Falls is one of the most beautiful places that you can go. It is a spectacular sight, and I'm sure it is even more impressive when you are in it.
Would you take the plunge? Picture yourself trekking to the top of the waterfall, taking in all of the sights as you walk. The water is amazing; it sounds so peaceful. Rainbows are seen overhead and seem to be caressed by the clouds. The mist gives it a magical appearance as the lights are reflected. It is truly more jaw dropping than the pictures, and bigger than ever imagined. The beauty can't be denied, and it is a genuine masterpiece. But, the real question is, would you get in the water and head over the falls?
You see people in the water, going through the mist of the falls below. Of course, they are in a boat. The water is a bit strong down there, and the current could take you away in no time. They appear to be having fun. Would you want to have fun with them in the waters below?
Climb on up out Niagara Inflatable Slide and see if you have the courage to take the plunge back down to the ground. It looks a bit scary from the top, but you aren't scared. Show your friends how it is done time and time again and let your bravery shine through! Dare devils take the plunge all the time, and now the falls are calling your name!
The Niagara Inflatable slide will definitely add a splash to your next event. Get imaginations going, and maybe inspire a new vacation for some of your guests. Niagara isn't that far away, and would be incredible to see in person. It is a gem that not many people think about when vacation planning, but this fun slide will surely get them thinking! It's a bit of history, mixed with a hint of fun, to create the perfect party addition!