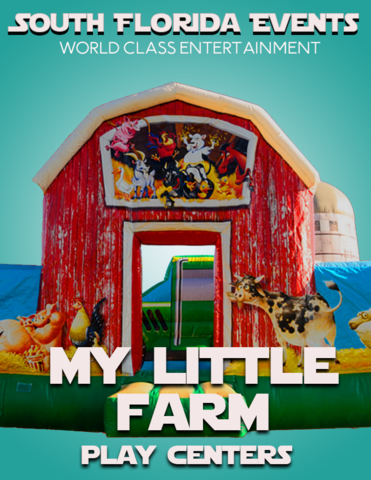 My Little Farm
Actual Size: 16' L x 19' W x 10' H




Growing up, kids are very fond of animals and always want to be around them when given the opportunity. Whether they have multiple at home, or they anticipate their annual trip to the zoo, animals are always a favorite. Being around animals has a way of brightening up a child's day. It may have to do with how cute and cuddly they are, or they may feel as if they want to take care of them all and bring them home.
Every parent has heard "I will take care of him. I promise!" They may have the best of intentions, but it does not always work out the way that the planned after they get their favorite furry friend. Perhaps if they had a little farming experience, they would know how hard it is, and how much responsibility is involved when getting a new pet!
Allow your little ones to let their imaginations run wild with the My Little Farm inflatable! As they bounce around the farm house, they will think about all that is involved with running the farm and keeping their animals happy. Of course, they probably won't be thinking of mowing the grass and gardening- the animals will certainly take priority over all of the other daily farm tasks!
They will look at the cows, pigs, chickens, and other farm animals and wonder how they would take care of them. What do they eat? How do you know if they are happy? How do they stay warm when it is cold out? How does one little fence prevent them all from escaping? How big will they grow to be, if they are already bigger than me? These are all things that will run through their minds as they are envisioning themselves on the farm, in charge and taking care of everything. After spending some time jumping around the farm with the animals, they may realize that it would just be too much work to take care of them all! Or maybe they will want their parents to buy a farm for them…
No matter what the outcome, the My Little Farm inflatable is sure to brighten up any event. 4-H clubs, backyard BBQ events, and other farm related get-togethers would benefit by having this inflatable be a part of them! (Maybe a mechanical bull would be fun for the older guests while the little ones play on this!)