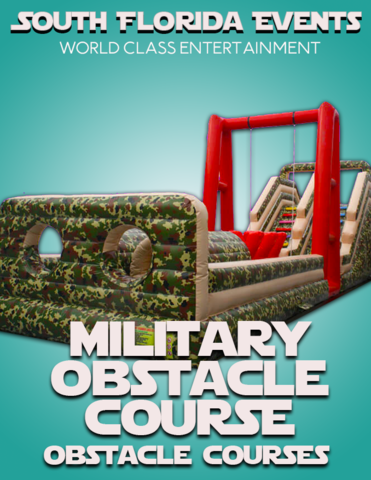 Military Obstacle
Actual Size: 85'L x 12'W x 16'H




Kids love to run, jump, climb, and crawl across anything and everything you put in their path. And as most parents will attest to, many children are all too happy to go out of their way to climb trees, scale walls, stand on chairs, or crawl atop and over whatever piece of furniture or outdoor hurdles they can find. It's both amazing and mind boggling how much they can get into… or in this case over.
To meet this need for engaging and challenging physical activity, various kinds of obstacle courses for kids have been a staple at birthday parties, picnics, patriotic events, and various other gatherings for decades. Like zip lines, obstacle courses are always a big hit because they are so engaging and a great way to keep children and adults alike entertained for hours on end. Not to mention a great way for kids to burn a ton of energy, which is always helpful.
Introducing our super popular Military Obstacle Course for Kids.
We have taken the basic, backyard obstacle courses for kids to the next level, and are proud to present an 85-foot inflatable, military designed, gargantuan, all-inclusive platform with 'child safe' horizontal hurdles, 'hedgehog' obstacles, and vertical potholes to crawl through… among others.
Not only fun and enjoyably competitive, every single activity element on this beautifully crafted obstacle course for kids is designed to promote a child's hand-eye coordination and general physical coordination as they move through it at their own pace- overcoming each challenge one by one to emerge victorious out the other side, ready to try again!
As mentioned, this not only allows kids to burn off a huge amount of restless energy as they climb through and over the obstacles, but this specific kind of activity definitely helps build greater physical skills that helps translate well to sports, dance, play, and other active outlets as they grow.
Just make sure to have food and water available because just like our troops after a training drill, the kids are going to be hungry and thirsty after they train on this course, which is why we our clients often reserve one of our all-star South Florida catering options (like BBQ or picnic catering) to go with high energy event activities like this.
A true powerhouse, and a great honor to our American troops who do so much for all of us, the military obstacle course for kids will no doubt be the life of the party, and fit well into an array of both kids and adult events where children are going to be present and need entertaining.
Also, don't forget your cameras as the opportunities for great pictures will be endless.