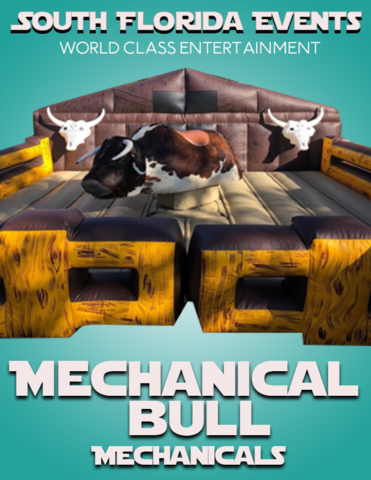 Mechanical Bull
Actual Size: 18' L x 18' W x 10' H




Picture yourself in the Old West. Day after day you ride through the town as tumbleweeds pass your horses hooves and across the road. It seems like the same routine over and over and you are desperately looking for something to change up your routine.
One day when you are passing the corner store, you notice a new flyer posted on the community bulletin board. A rodeo is coming to town! Others are excited to see the show, but you want to be a part of it! You take down the number, and before know it, you are about to ride a bull!
Anticipation builds as it gets closer and closer to your turn, and your palms begin to get sweaty. You wanted something different, and you surely succeeded at finding a thrilling adventure to take part in! Time after time the people ahead of you fall off before the 8 second buzzer of victory sounds. You hope your luck will be better than theirs as you begin to get ready. You hop into the stall and onto the bull. Your hand goes in the strap, and you take a deep breath. Will you make it?
The stall opens and it is the moment of truth! You hold on as tightly as you can while the bull beneath you keeps twisting and turning, trying to kick you off. It begins bucking while it spins and you feel as if you might lose your grip. You hold on with all your strength as you hear "five seconds!" over the loud speaker. Three more seconds. You know you can do it! The bull seems to be getting more agitated as time goes on and the bucks get stronger, and the twists get faster. You close your eyes and hope for the best.Then you hear it!
The sound of victory can be heard throughout the arena and the spectators begin to cheer. You did it! You release the reigns and tumble to the safety of the ground. Maybe you will decide to head out with the rodeo to their next destination.
Give your guests the thrill of trying their luck on our mechanical bull! It is a fun addition to any event, and mixes great with a backyard barbecue. Padding around the bull adds extra protection for those who are brave enough to try it. Maybe your visitors will like it so much, they will become professionals!
Don't hesitate, rent a mechanical bull for your next event now!