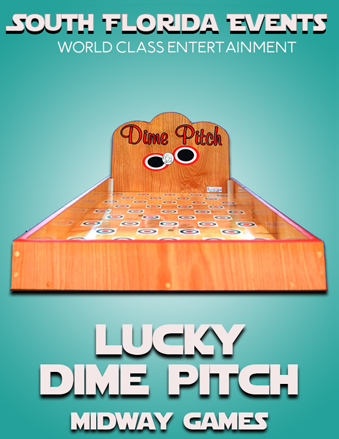 Lucky Dime Pitch
Actual Size: 48″L x 16″H x 25″W




Carnival games are always a hit, and Lucky Dime Pitch is a ton of fun for all ages.
Anyone who has ever been to the carnival or fair knows the lure of the game rows where mysterious workers in striped tents call out challenges and beckon newcomers to step right up and toss a ring on a bottle to win a stuffed bear.
There is always laughter and everyone wants to win a prize, regardless of their game of choice.
Lucky Dime Pitch provides all of this and more.
In addition to the good-natured competitive fun it offers to both the younger and older subsets, tossing dimes in an attempt to get them to land on a bullseye is also a fun way for kids and young adults to practice and perfect their hand eye coordination, which is crucial for a wide variety of sports, dance coordination, idle play, and physical activities.
The best part about the Lucky Dime Pitch is that is not only a great addition to any carnival party, but it also fits right in to a whole host of other birthday or celebratory events, such as sports themed or prize laden parties as well as providing a great side addition to a whole host of company gatherings, zip line and BBQ catered South Florida events in the sunshine. And it also is a stand-alone interactive party game because so many kids and adults can play, taking turns or all throwing at once, trying to get a single bullseye or playing the first to ten bullseyes wins.
Combining Lucky Dime Pitch with Tin Pan Alley or any and any of our other similarly-themed options is also a great way to provide a games row that will keep the kids and adults alike coming back for more for hours on end.
Lucky Dime Pitch is also perfect for both indoor and outdoor events, enabling you to incorporate it into your party framework with ease, whether you are having a morning, afternoon, or evening event. And it can be lowered down on the ground or raised up onto a short table to change the angle and start the whole process over, effectively challenging the contestants to repeat their performance at the new height.
Step Right Up and Let the Games Begin!