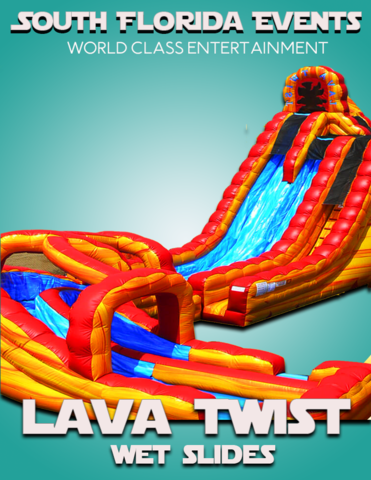 Lava Twist
Actual Size: 50' L x 32' W x 27' H




Picture yourself in Hawaii, climbing up a mountain to view the spectacular sights from above. You can hear the rumbling of a volcano in the distance. You hike and hike some more, climbing higher and higher above the water. As you continue your vertical trek, the better your sights become. The rumbling continues. You are getting closer. Your pace intensifies and your heart starts beating faster. There may be obstacles to overcome, and distractions might sway your attention from the task at hand, but you are determined to get the task done. Depending on weather conditions your journey may be slippery, but take your time and you will get there!
At the pinnacle of your destination you look around and see the molten red lava encased in dirt and rock. It is hot up there; especially after all of the energy you exerted to get to the top! The rumbling continues to get louder and more intense and you get a bit frightened. Volcanoes are not predictable and can erupt at any given time.
Even though your nerves are starting to get the best of you, you take a deep breath and take a look at everyone and everything down below. The people are looking at you, worrying about how you will make it back down after climbing all that distance. Will you fall? Will you walk? Will the lava sweep you off your feet?
No! The best part of your journey awaits you. You will slide all the way back down! After your long journey up you will be happy to slide down into a pool of refreshing cool water below.
Twisting and turning as you slide back down, you will enjoy every second. It won't matter if your eyes are opened or closed; the slippery jaunt down will be extreme! The wetter the slide, the fast you will go! It's a race against the lava, and you will surely win!
Lava Twist will be a hit at your next event! They will be beating the heat (and the lava) with this slide! Your guests will have fun and be able to cool off on a hot summer's day. Comfortable guests make for a longer party and water amusements are key for fun-filled days of outdoor activities.
If you aren't feeling up for the water aspect of the slide, you can also use Lave Twist as a dry slide. The option is yours.