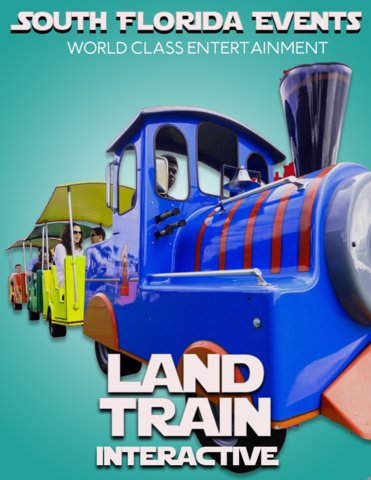 Land Train
Actual Size: 20'L x 4'W x 5'H




Riding a train is adventurous. It doesn't matter if you a riding across the country or to the next town over, it is a fun way of transportation. The sights you will see are amazing as you are driven through the countryside and big cities. It is an excellent way to see all that nature has to offer while getting to your destination. It may not be as fast as a plane, but it does give you the opportunity to see more of the land around you. Some people prefer to go the free route, rather than the quickest route for this reason.
Years ago, riding a train used to be the most normal way of getting to the destination of your choice. Planes weren't even invented! If you wanted to get to a place that you weren't able to walk to, you could choose between a train or a horse and buggy. Of course, the train was the quicker option! It is amazing to look back in our history to see how quickly our transportation options have changed.
If you have a sprawling area that you are looking to host your event in, consider our land train! For those little legs that just can't walk anymore and for worn out adults alike, it is a great feature to help them get around your event! They can take in the scenery and see what they would like to do next on the way to their next chosen destination.
While guests may want to see all that your event has to offer, they may not wish to walk the distance. It could be too cold outside, or they could simply be tired of going to the closer forms of entertainment that are being offered. Perhaps there is a long driveway for guests to walk up after parking their cars. What would be better than a train ride to the backyard?
This option is awesome around the holidays where most of your land is decorated beautifully, and small booths are set up. Your guests will be amazed while looking over the property on their train ride! Make it a haunted train for Halloween that brings your guests around a pumpkin patch, or a Christmas train to get your guests to the hot cocoa stand on a chilly winter night. However you choose to use it, the train is a great feature!