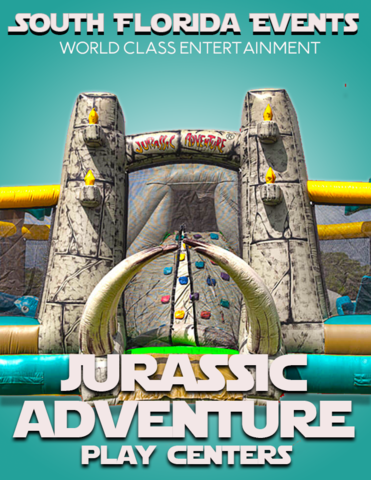 Jurassic Adventure
Actual Size: 30' L x 30' L x 17' H




You are walking down the wooded path toward your destination, when all of a sudden you hear a loud roar. You start walking faster and faster until you begin running to get away from the noise. It seems to be coming closer and closer, and you don't want to take your chances finding out what type of creature the ferocious sounds are coming from. You run until you can't run anymore, but it just isn't enough. The roars are getting closer, so you decide to duck behind a boulder.
Peering out from behind the rock, you see what has been chasing you for what seems like hours. It is a dinosaur! You stare in amazement as the creature moves passed you. He wasn't chasing you. He was simply going the same way and contacting the others through his roars. One after another, dinosaurs pass you as they walk towards the waterfall for a drink. That is where you were headed as well, so you decide to wander out from behind the rock and keep a safe distance from them as you continue on your way. Staying cautious of your surroundings and making sure you go undetected, you head toward the waterfall. Perhaps they will be done drinking by the time you get there.
The walk isn't easy, and your steps are much smaller than those of the beast. It will take you more time and effort to get to where you are headed, but that doesn't stop you. There will be obstacles along the way, but you are ready to take on any challenges that lie ahead. Climbing up hill, using rocks for hand and foot placement seems to come naturally, and sliding down hills back onto solid ground is a piece of cake. More dinosaurs can be seen in the distance in every direction, and you are beyond excited to be able to see them all!
Give younger guests at your next event a sense of adventure with our Jurassic Adventure Bouncer. They can jump around, and climb up hill using foot pegs to get to the top before sliding right back down. They will climb up time and time again as they use their imagination and pretend they are walking amongst the dinosaurs and creating their own storyline. It will be a huge hit, and all who step on are sure to enjoy the adventure! Some may even pretend to be the dinosaurs themselves!