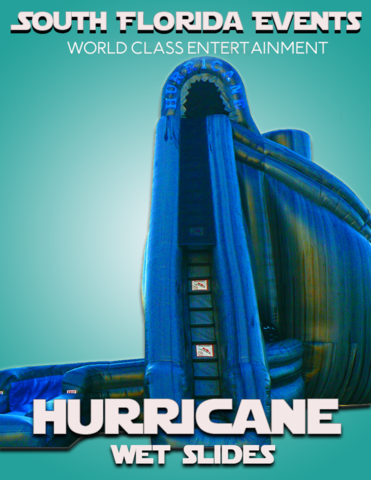 Hurricane
Actual Size: 28' L x 15' W x 24' H




Hurricanes are rare weather events that can cause a lot of damage to both people and their property. They usually occur in warmer climates and disperse off the coast, but you can take this Hurricane anywhere. We put a fun spin on it, and you won't be harmed!
Brave the weather with Hurricane! The weather may be a bit scary, but it will be worth it in the end. Use all your strength to climb to the top of this inflatable. Strong winds, heavy rain, and gusts won't get in the way of you using your might to climb higher and higher to the top of this monstrous adventure slide. Don't let the wind blow you back down, and don't let the slippery conditions get the best of you. Keep your footing as you pull yourself up, because you don't want to start all over from the bottom.
You may be nervous, and the people on the ground will be nervous for you! Guests will be watching as you hold on for your life while ascending to the top of this slide, and as you make your descent. They will be just as entertained watching you complete the adventure, as they would be completing it themselves. It is a twisty high-speed slide that will get you back to the ground in no time. If you can complete the climb up, you surely shouldn't be afraid to sit down and ride the wave back to the ground.
You will certainly be testing your strength, and can even make it a friendly competition with your peers. Who can make it up in the fastest amount of time? Who can do it without losing their footing? It's a great way to incorporate friendly competition into your event, and guests will surely try it again and again trying to make their times better!
This inflatable is sure to add a splash to your day. It's a great way to have your guests cool off after running around and completing other activities that you may have in store for them. Whether they are just sitting out in the sun, or completing obstacles, it is always a good idea to keep cool and keep occupied! It will be extremely hard to tear them away when it is time to leave. Make sure they bring their swim suits because Hurricane is sure to get them soaked!