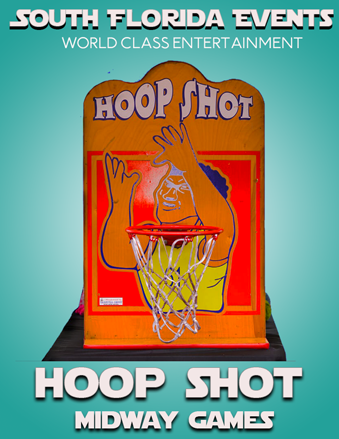 Hoop Shot
Actual Size: 38″H x 23″W x 24″D




It is game day, and you feel prepared as you begin to bounce your basketball in anticipation of a few practice shots before the big game. The sound of the bounce is almost calming as you start to slowly walk around the area. You know what you have to do, and you are confident that you can get the job done. After all, you have gotten the ball in the hoop many times in the past.
Then it is time. The game starts off slow, and your teammates seem to be handling the ball just fine without you. The opposing team starts to slip ahead, and your teammates start to grow worried. They don't know that keeping your cool is imperative. Nothing seems to change and minutes seem like hours for your teammates as they begin to accept defeat. Before you know it, the ball is in your hands and you are dribbling around the court. You shoot, and you score! This game is your passion, and there is no way that you will let it get the best of you. It seems like a piece of cake, and for you, winning this game was just that.
Picture yourself as a Pro, as you take on Hoop Shot! This portable basketball hoop will create a bit of friendly competition, as guests try to see how many baskets they can get in a row in order to surpass each other in score! This fun-filled hoop will keep your guests entertained for hours on end, whether it be playing the game, or watching others as they attempt to succeed. It is a real attention grabber, and those with a competitive edge will surely find that most of their time will be invested in this game throughout the event.
To succeed at the game, two in wins! Two balls and two shots making it in the hoop deem you a winner! It may seem easy, but when the pressure is on, it becomes a little harder than you think. People begin to flock around you, looking to see if you will actually make it, eager for you to miss so they can take their turn. The better you do, the more people begin to watch. When all eyes are on you, it is easier to make a mistake that could lead to your demise. Take your time and don't pay any mind those around you for your most successful shot! Maybe you will be the champ at the end of the night!