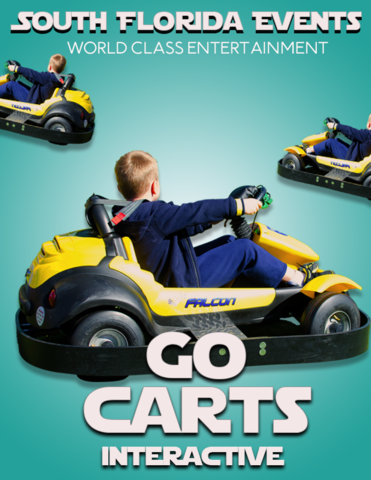 Go Carts
Actual Size: 58'L x 35'W x 10'H




Racing has been around for ages and is very competitive worldwide. Drivers train crazy amounts of hours to attain the right speeds for their particular cars and to test their maneuvering skills. Mechanics work hours on the cars to make sure they have the ability to overcome the competition with the right driver at the wheel. It is a tough process for race team owners to pick the right driver, mechanics, and car itself. A lot of rules have to be followed both driving, and creating the car that you desire. Time, effort and a considerable amount of money will get you to the winners circle.
For the fans, watching the cars go round and round the track is a hobby. They watch the drivers as they move and evade other cars to make their way to the front of the pack. The trick is staying in the front! Other drivers will be on the heels of the leader for most of the laps, making it hard to concentrate. Fans cheer as their favorite driver passes the other cars in an attempt to get on the leaderboard. But in an instant, those cheers could turn into sighs!
More often than not, drivers end up hitting a wall, or another car as they try to go in for the win. It is scary when this happens, but that is why they have all the protective gear in their cars and on their bodies. Wrecking the cars that people work so hard on is a part of the sport, and car owners know that going in. After every race, there is a lot of maintenance to be done before the car can run again.
Most children contemplate being a racecar driver when they grow up. It looks fun, fast paced, and glorifying to them. Give them the chance to try it out with electric go-carts at your next event! They will race to their hearts content while trying to avoid the walls and other cars. Getting to the front of the pack will send them on an adrenaline rush for the rest of the day! They will try again and again to become the victor, and it will keep them busy for hours. Racers will zoom by you with huge smiles on their faces as the complete the final lap around the track. Electric go-karts will definitely add some electricity to your party!