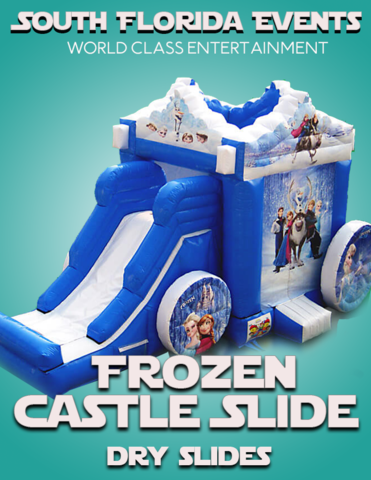 Frozen Castle Slide
Actual Size: 20'L x 16.5'W x 13'H




Whether you are planning a Frozen birthday party, a Disney themed corporate event, a company team building activity, a south Florida zip line party for kids or adults, an all out birthday extravaganza, or just gathering fun and amazing party entertainment ideas to go with our delicious South Florida BBQ catering or picnic catering options…
Who better to invite to your South Florida event than Queen Elsa and Princess Ana, heroic Kristoff, Sven the reindeer, and of course Olaf the snowman with his warm beachy dream.
No matter what you are planning, Elsa and Ana are always the life of the party, and they formally invite you to join them up into the cold snowy reaches of Elsa's magical mountain top Frozen castle slide to partake in an icy adventure with their trusted crew. Just make sure to bundle up before you climb towards the peak, or else the exhilarating Frozen castle slide through the chilly air to follow will leave your teeth chattering and your cheeks flushed.
Perfect for every event planner and local family looking to take a company event or private party to the next level, Elsa and her Frozen Castle Slide can provide hours of delightful engagement and laughter for children and adults alike. Time to make some dreams come true!
In fact, some of the best bonding opportunities between parents and children are through fun interactive games and activities like this because they provide a way to connect and build fond memories that last long into life.
And who doesn't like Frozen and Elsa? Adults and kids alike can agree that a Frozen Castle Slide with Elsa sounds like a total hit for any birthday party, BBQ catered picnic in beautiful South Florida, or other event. And it is also a great addition to any obstacle course for both kids, and a wonderful addition to a fair or place where children need fun interactive entertainment.