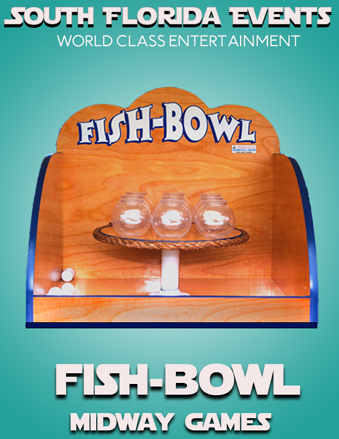 Fish Bowl
Actual Size: 30″H x 23″W x 27″L




At almost every event I have ever been to, there is the classic game of toss rolled into a fun collaboration to keep guests entertained. For as long as times have been logged, there is a record of people playing toss. Whether it is a bean being thrown into a pot, or a ball being tossed into a hoop, it is always something to prevent boredom and serve as a form of entertainment. People of all ages enjoy the classic game, and there are many different ways that it can be arranged.
While tossing a bean into a pot can be fun for a little while, it is important to consider the ages that will be playing and their attention spans. They may need a little more than the classic bean into a pot approach. Lighting, designs, and different props all play a role in keeping the attention of your guests. It isn't just the entertainment you provide, but the way in which your guests will play that will truly make the rental worth it.
That is where our Fish Bowl game comes in! Allow your guests to try their luck at tossing ping pong balls into three different fish bowls. Three in wins and bouncing can either count or be disregarded depending on your wishes. It is your day and your rules! Be sure to have fun prizes for your guests that can complete the game flawlessly, and watch as others flock around to try their luck.
Your guests probably won't get all three balls into the various bowls on their first try, which will spike their determination to try again and again until they finally succeed. Of course, if someone succeeds before them, they will surely feel obligated to be in the winner's circle as well!
Those that choose to watch instead of trying the game first hand will watch intently as others test themselves. They will cheer or sigh as the balls are thrown, motivating the player to do their best. Of course, depending on the person, this could distract them as well.
No matter how easy it looks, it always proves to be challenging in the end. The player will feel a sense of excitement after getting the second ball into the corresponding bowl. But will they make the third attempt? That is when the pressure is really on, and their fate is ultimately revealed! Without all three, there is no winner.