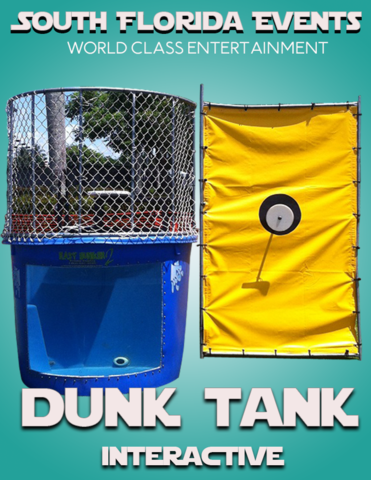 Dunk Tank
Actual Size: 10'L x 15'W x 10'H




Dunk tanks are a welcome addition to any event! For years, the tanks have been used as a form of entertainment. As long as you have someone brave enough to take a seat inside, it will be a great part of your day!
Have you ever been to a carnival with a rude clown sitting in the dunk tank, making fun of those the pass by them? His goal is to make you mad so you will purchase tickets and try your luck at getting him soaked on a chilly night! Most won't be lucky enough to hit the target that makes his chair fall from under him, but if you are; you will feel vindicated! Even though he is in the tank, he doesn't want to get wet and is counting on you to miss the target when you throw the ball!
In other instances, the dunk tank can be used as a way to earn money for a valid cause. Put someone in the tank that people know and would occasionally like to see dunked. Would the boss be willing to take a seat? How about everyone's favorite professor? Sell tickets for people to try to make it happen, and you will surely earn the extra money that you need! Will they end up wet or dry? It all depends on your throwing skills!
In either situation, if you miss the target you will feel the urge to try your luck again and purchase more attempts. That clown will certainly make you the target your next time around at the carnival if you miss, and you just want to see your favorite person hit the water.
It doesn't matter who is in the tank; it really is just fun to watch them look at you uneasily while you try to knock them into the tank of water. What is even better is you can see under it and watch their reaction as the sink and work their way back up to the surface!
Make your next event in southern florida a slam dunk with our dunk tank! It has never been more fun to throw a ball at a target. The reward is just as sweet for the pitcher as it is for the spectators. They will love watching others try their best throws to get the chair to fall! It is a form of entertainment that is sure to live on for many more years to come.