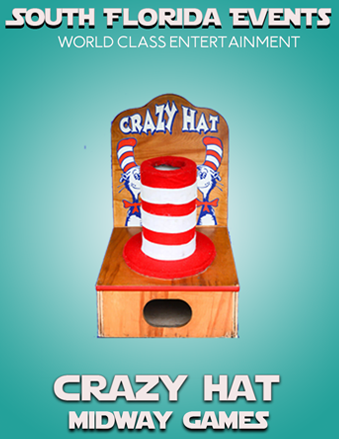 Crazy Hat
Actual Size: 32″H x 17″H x 12″D




Dr. Suess was a very popular author that was and still is best known for his children's books. The Lorax and The Cat in the Hat are two of his best-sellers. They were even made into movies! Although he began writing children's books in 1937, his writings are still prominent today and you will probably find many of them in the bookshelves of children around the world. He tried promoting literacy everywhere he went and urged adults to teach their children the value of a good book. The National Education Association even chose his birthday to mark Read Across America day annually. The author has passed away, but his writings live on both in standard literature and on the movie screens. People of all ages appreciate his work and continue to read his books and enjoy their cinematic adaptations today.
Incorporate some Suess into your planning and bring those that are familiar with Dr. Suess books back to their past, and lead them in educating the younger generations on his works. They may have forgotten how catchy his books are, but they will surely remember when they see the big red and white striped hat! It may just be a game, but it will make for a learning experience after the get-together when your guests have Suess fresh on their minds.
Your guests will be left thinking about how How the Grinch Stole Christmas and Oh, the Places You'll Go! were a major staple of their childhood, and maybe they will even pick up a few books on their way home to share with their young ones.
We have the perfect way to add some Dr. Suess to your day. Games make everything more interesting, and what better way to do it than with a classic game of toss? Show your skills and see if you can toss items into the hat as easily as The Cat in the Hat did!
At your next event, test the hand-eye coordination of your guests by having them try Crazy Hat! Toss a whiffle ball into the top of the cats hat to win! It may seem easy, but it could prove to be more difficult depending on various factors at your party! While Dr. Suess is a welcome addition to your festivities, be sure not to serve Green Eggs and Ham!