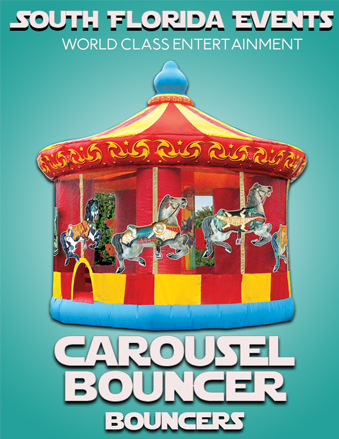 Carousel Bouncer
Actual Size: 23' L x 20' W x 20' H




Children love seeing and riding carousels at carnivals. The music they make, the detail of the horses, and their movements stimulate the child's senses, and sway them toward the ride. They are beautiful merry-go-rounds that make carnivals exciting and fun for those attending. While real carousels can't be set up anywhere, our circus themed inflatable can be! As long as you have the room, we have the solution.
The younger ones attending your event will be drawn in by the carousel horses that are painted in detail on the mesh of the inflatable. Before you can even start talking to others attending, your child will be trying to get to the bounce house! They will hop inside, and most will stay there until it is time to leave! Bouncing around and performing different tricks that they come up with will make the time fly by for them, and allow for a more enjoyable experience for the parents. Bored kids are no fun!
Imaginations will run wild, as they think of themselves riding the carousels all through the city. They will run faster around the bouncer, imitating the horse galloping around. Stopping only to let others in, they will continue moving around merrily inside of the bouncer at various rates of speed. Most children are infatuated with horses, but when they are carousels, it makes it even better! The decorations on the horses keep the attention of those around them, and imagination makes them even dreamier! The carousel horses seem even more impressive to the younger crowd, as their ability to pretend is impeccable.
Whether the child is pretending to be the actual carousel going round and round, or to be the rider steering it to freedom; they will be enjoying every minute of their time in our Carousel Bouncer. They will still be able to see those on the outside, making sure their loved ones don't stray too far away, while having fun and moving around the bounce house. Even the walls are bouncy, so if you happen to fall into one, there aren't any injuries!
The Carousel Bouncer is a magical addition to your event, and will be enjoyed by the little ones for hours at a time! It will keep your guests entertained, and the children in one place! Because the bouncer is enclosed, there will be no need to chase the little ones around while trying to talk to other guests.