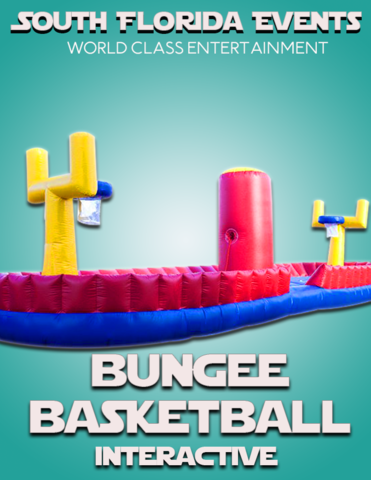 Bungee Basketball
Actual Size: 45'L x 10'W x 10'H




Basketball and tug-of-war have been part of sporting events for as long as I can remember. Both require an amazing amount of power; basketball in the legs and tug-of-war in the arms. Some people are great at both sports while others are good at one or none at all! It all depends on your specific physique. It is said practice and make perfect, but I'm not too sure that anyone can be perfect at either of these games!
Basketball is a contact sport that makes athletes run, dodge, and use their hand-eye coordination to get a large rubber ball into a hoop that is raised up high. Sometimes, a shot has to be made from a far distance, making anticipation rise as spectators wait for it to fall through the round hoop (hopefully).
Tug-of-war is a game of "It's mine!" between two or more people. They pull the rope with all of their might, trying to make their opponent or opponents cross a middle divider. They tug and they tug until victory is achieved. Tired arms are a sign of a good victory!
In either of these games, you will wear yourself out trying to beat your opponent. Whether you are running around, or pulling with all of the strength you can muster up- you are in for a challenge!
But what if these two past times were combined? Can you imagine the strength and coordination that you would need to pull yourself to your own side of the court while your opponent is trying to do the same? Becoming the victor would be nearly impossible as you inch closer and closer to your hoop when all of the sudden you are tugged away in a jolting manner.
Imagine no more. Try your luck with Bungee Basketball! Both opponents are connected to each other by a bungee cord that goes through the inflatable center post. Use all of your strength to get closer to your hoop, while pulling your opponent farther away from their own. They might gain some steam and pull you away from your goal, but it is up to you to prevail! Match their strength and then gain a little more. If you are lucky enough to dunk your ball first, you are the winner!
Bungee Basketball will wear your guests out in a fun, competitive manner. Add a little bounce to your party with this inflatable. It's a real slam dunk!