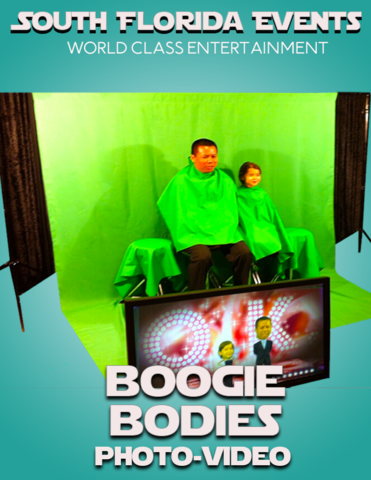 Boogie Bodies
Actual Size: 15'L x 15'W x 15'H




Growing up, kids always dream about being one of the people on television, living out there dreams and having fun while they do it. They look at the videos of their favorite songs, and wish that they were one of the dancers, helping their favorite musician achieve their desired effect for the video. Some may even want to be the actual entertainer! Whichever choice they make, they want to be the girl or boy on television that people idolize and enjoy seeing on the screen.
Some may choose to take dance lessons, and display their talent recital after recital. Others may take voice lessons and perform in countless concerts. As long as they are enjoying what they are doing, it isn't an issue! Perhaps they will try to make a go of it in the industry, but most will consider their choices hobbies instead of careers when the find out how much time and effort actually goes into getting on television and being successful in that aspect. While they still enjoy it, they don't really get a chance to make their dreams of being on television a reality. Until now.
You guests will be laughing out loud with enjoyment when participating in Boogie Bodies! This new entertainment video system uses equipment that is second to none, that puts a bigger than normal version of your head onto a boogie body. This gives the impression that you are a trained dancer in a wide arrange of music videos. Guests will even be able to get their version of the music video on DVD, which will make them think of the fun they had at your event for many years to come.
Boogie Bodies is fun for everyone! It doesn't matter what your skill levels are, or what you are wearing. Put the green cape on and get in front of the green screen for a great time! Boogie Bodies is so much fun for those taking part and everyone else that is watching while waiting for their turn. It is a hilarious form of entertainment that even entertains more at home. Guests just need to pop in the DVD when they need a good laugh. Many may not be able to choose just one, and hop back in line to "perform" another song and make different faces while on film. No matter what they choose to do, it will surely keep them laughing!