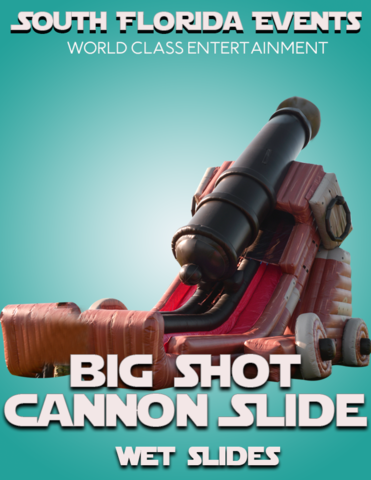 Big Shot Cannon Wet
Actual Size: 50′ L x 24′ W x 30′ H




Will you fall down while racing to the top? Will you be able to make it all the way up? Once you get to the top, will you be scared to slip down? The butterflies you are feeling inside will only get worse as you climb higher and higher to the top. But, think of how the person being shot out of the cannon must feel! This will make you feel a little better before you take a deep breath and plunge down the slide.
Guests may attempt this once or twice and think they have had enough, but that is when you can pull out the next trick: Add water! A wet slide is just a tad more intimidating than a dry slide, and will keep your guests climbing up again and again! Slipping and sliding down becomes fun and less intimidating. But it also becomes more fun! Land in a pool of water and splash around, or splash each other before climbing up and trying again. The wetter you get, the more slippery the inflatable gets. The trek up becomes a bit more difficult, but the rewarding pool at the bottom makes the short climb worth it.
Wet slides are a perfect addition to any event on a hot day. Allow your guests an opportunity to cool down and they will most likely stay longer, and stay happy during their time with you! Outdoor events are great, but be sure to have the entertainment to go along with them.
Available as wet or dry slide.