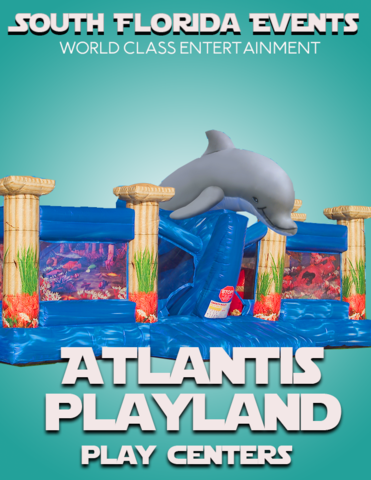 Atlantis Playland
Actual Size: 24' L x 20' L x 16' H




Children often wonder what happens, and what inhabits, the area under the sea. They think about all of the animals and the lives that they lead leagues below the water's surface. Are there a lot of different creatures? Do they get along with each other? Do they have to go to school? These thoughts encourage them to use their imaginations. They picture themselves being greeted by dolphins, and getting the grand tour of what lies beneath. They will surely be thrilled with our Atlantis Playland Bouncer!
Just like when they imagined, a dolphin will greet them at the front gate. That's where the story begins. They can choose to go to the left or the right, without knowing what dwells inside of the cave that they choose. Will it be a friendly creature, or a huge shark that greets them on the inside? It is up to them to decide as they weave in and out of the shark pop-ups inside of the inflatable! There may be some more friendly sea creatures in there to guide them along the way. Maybe they will even see a mermaid! As they bounce around, they will come up with different plots to live out as they enjoy their time in the bouncer.
As with any underwater themed play land, there has to be a hidden treasure! After bouncing around, it is time to continue the hunt for the treasure. Hopefully, no one has found it before you, and you can claim it for your own! The goal of any underwater voyage is to find buried treasure that has been there for hundreds of years. What a fun way to become rich!
If you have given up on your hunt for the treasure, there is still fun to be had. Our Atlantis Playland Bouncer also comes equipped with a slide! No matter what your young ones are interested in, this bouncer will keep them busy for hours.
Add the Atlantis Playland Bouncer to your underwater themed event to complete the look. What could be better than a huge dolphin, complete with a bounce house slide and underwater scene to make your event incredible? It will surely be the highlight of the day, and is fun for all! Watch or bounce, either way it is fun! This bouncer really brings what's under the sea to the surface for your special day!